5 Nights at Fletcher's is a 5 Nights at Freddy's fangame set in a resturaunt in Queens, Colorado, the same place Vince and the 300000 Racketeers the Video Game is set.
Development
Edit
The game was a very minor plan, although a number of concepts exist. It had 12 cameras and 6 animatronics. It was finally scrapped on November 30th, 2015. Poliwrath Vs. Exploud began development the same day.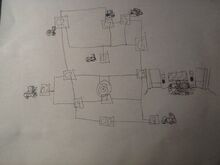 Characters
Edit
Animatronics
Edit
Ad blocker interference detected!
Wikia is a free-to-use site that makes money from advertising. We have a modified experience for viewers using ad blockers

Wikia is not accessible if you've made further modifications. Remove the custom ad blocker rule(s) and the page will load as expected.