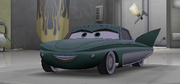 Flo is a 1957 Motorama show car, and the wife of Ramone.
Role in Game
Edit
She appears in exploration mode in Ornament Valley. She also appears in Fillmore's Nature Preserve, and is the player's second car in Team Relay 2. She is playable in arcade mode races, as well as in the two-player mode of Ramone's Rhythmic Rumble.
She is the only playable character who does not appear in the picture in the end-scene of Team Relay 4 at the end of the game.