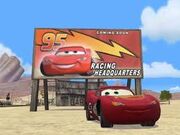 Lightning McQueen is the main playable character in Cars Mater National Championship.
Role in Games
Edit
The player controls him in explorable mode, the races and most of the other events. He appears in most of the cut-scenes and end-scenes. He is also playable in many of the events.
Cars:IGNITE Remake
Edit
Lightning appeared in the 25 second pre-alpha clip being played as.
Lightning was to play the role of the night guard.
In the end-scene of the final level of Tractor Tipping, he made a honk, which tipped Frank. But he stated in the first film that he doesn't have a horn, which he instead revs his engine to tip the tractors.
On the DS version of the game, Lightning has a phrase, "Ka-chow" when he jumps, but it sounds as if it was done by a child.
Lightning is the only character who was to appear in 5 Nights at Fletcher's without appearing in Vince and the 300000 Racketeers the Video Game.