This is a concept that was to be based on a fanmade short, but both were never made. More can read on it's article on Vince Short Wikia. It is set in a fictional town called "Queens, Colorado".
Originally, it was to be a unique half-racing half-role playing game. It had 22 playable characters.
It was later made more simple, based on a game called "South Park Rally". It was scrapped in just 10 days, replaced by Poliwrath Vs. Exploud.
Playable Characters (as of Phase 2)
Edit
Zil's Carnapper Van
Vince's unnamed Friend
Mrs. Queens
Barry's Brother
Barry's Sister
Mr. Rustfender
Mrs. Rustfender
Sonny's Sister
Mr. TankerHorns
Mrs. TankerHorns
Lenny's Sister
Mr. OilDrazzle
Mrs. OilDrazzle
Gerald's Tow Truck
Male Racketeer
Female Racketeer
Animatronic Fletcher
Animatronic Gerald
Queens, CO Sheriff
Sheriff Vincent K. Queens
Sonny's Whismur
Preschool Judd
Preschool Cletus
Preschool Buford
Cletus' Grandson
Jersey Reporter 2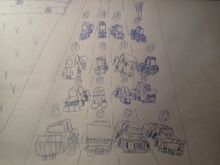 Ad blocker interference detected!
Wikia is a free-to-use site that makes money from advertising. We have a modified experience for viewers using ad blockers

Wikia is not accessible if you've made further modifications. Remove the custom ad blocker rule(s) and the page will load as expected.